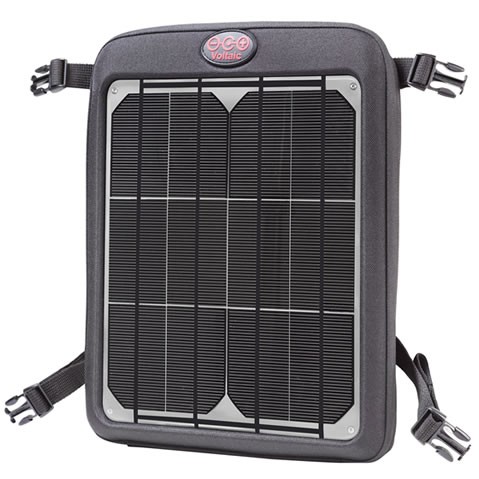 I sometimes hate technology. Not because I have difficulties with the technology itself, but simply because the accessories to technology often are confusing, cumbersome, non-compatible, and just plain annoying. Why do I need so many different accessories, and why do I have dozens of plugs, adapters, chargers, extra wires, and the like? I swear if I could string it all together, I could loop the globe a few times over, stopping only to press "ignore" on the low battery notifications on my devices along the way.
So, when planning for my 5,500-mile bike ride this coming September, special attention is needed for technology-related items. The last thing I want to do is lug around a tangled ball of cords and chargers that I can't figure out which to plug in to what. I need to keep the cords, chargers, and adapters to a minimum. Additionally, since I'll be on the bike for an average of 10 hours a day, a solar charger is going to be a necessity. Great; more cords.
I reached out to several companies in search of a sponsor, and Voltaic Systems stepped up to plate. I researched their products, read reviews, and knew that they would be a perfect partner. First things first: I wanted to get their advice on which product would be the best. I called the support desk and was impressed by the level of care and service. The young lady that helped me asked what my specific needs were, and she ultimately suggested a solar charger panel that was in the mid-range of their offering.
I've been using my new Voltaic Systems Fuse 9W Solar Tablet Charger now for a few weeks – and I absolutely love it.
Here's the quick and dirty:
-It's lightweight, but appears to be well-build and rugged. I was able to quickly and firmly attach the pack to my front panniers to give optimum exposure to direct sunlight. It comes equipped with all the cables I need, including several different length USB and MicroUSB cables. It has a couple easy accessible, netted pockets with which to store cords and adapters. The zippers are high quality and easy to glide open and shut to access the battery while biking. The battery charges quickly and provides a steady and powerful charge to my devices.
I've yet to go into battle with the Fuse 9W Charger, but I have kept fully topped up on my iPhone, iPad, and GoPro on long training rides. I don't know yet what the limits of the Voltaic System's charger are, but I'm anxious to find out.
Maybe I don't hate technology after all!
Here's a link to Voltaic System's Fuse 9W Solar Tablet Charger – click here