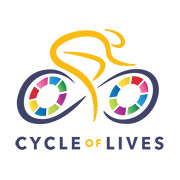 Today was supposed to be an easy day: 85-miles, 1,700 feet of climbing, and some long downhill sections. It was supposed to be a little cooler. It was supposed to take about 6 hours. Well, so much for "supposed to's." I woke up sore and a little beat up, but optimistic and hopeful for my easy day ahead.
Then, as I hit the road, bam, a direct headwind. That was followed by more wind, really hot weather, and muscles needing to work much more than my tired frame wanted to allow.
By the end, I was on the bike for 10 hours, my stomach shut down, hydrating was impossible, and my easy day had me as depleted as any other so far.
Tomorrow: only 66 miles, but well over 7,000 feet of climbing. I'm not sure my legs will have it, but there's only one way to find out: go to bed, wake up, and start pedaling. Come along for the journey by following "cycleoflives" on any social media platform.
Thanks!!