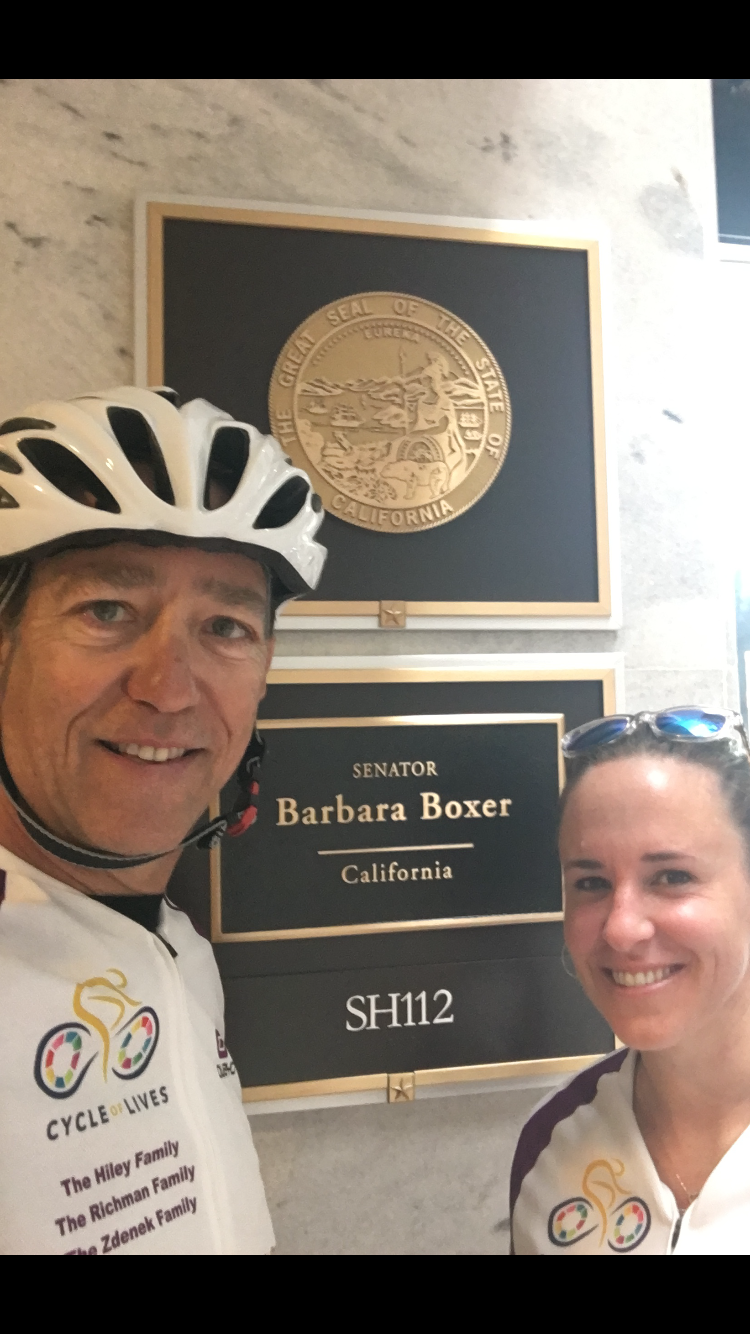 What do you do when you're on a bike ride across the country to raise funds and awareness for cancer care and research, and you're in Washington, DC? You go visit your senator – well, at least your senator's staff. And believe it or not, even though it's only weeks away from Election Day, you don't talk politics.
I awoke early last Thursday so that I could get some of the day's miles knocked out, and then raced back into the capital city and to the Hart Senate Building. Most of the public entrances were closed, and multiple police patrolled the nearby streets, spurred into action, no doubt, as a result of recent urban and political tensions. I finally talked my way inside the building, but not before meeting the sergeant in charge who had stepped in to help me out; he lost his wife to breast cancer not too long ago. That's one of the things you learn when talking to people while you're on a bike ride across the country; everybody has been touched by cancer. More importantly, I've learned that unless prompted, you wouldn't be any the wiser to it, but once engaged, there's an instant bonding as a result of swapping stories that are created as a result of this disease. Then, you learn that people often take a minute and go out of their way to help and support other people. Cancer is quite the bonding agent.
Armed with research provided by my daughter, accompanied by my fiancé, who has extensive legal experience in the health care world, and advocating for the amazing people I've met along the Cycle of Lives journey, my ask was easy – what can we do to provide more dollars to those who are working to find cures, grant easier access to high-technology treatments such as proton therapy, and bring more awareness towards addressing the emotional issues that cancer causes in caregivers, patients, and loved ones?
The result? We engaged in substantial discussion, notes were taken, stories were swapped, and in the end, we received a commitment that a few of the more salient items would be brought to the senator's attention in a specific and meaningful way. After all, the senator has a strong history of cancer advocacy and action.
I am not delusional; I know that my effort on this project will not change the world. What it might do, though, is to grease a particularly squeaky wheel so that it spins easier, or to shine a little light on a dark corner to aid in navigation, or maybe even to add just a pinch of the right ingredient to a complicated recipe.
Determining whether something is trivial or substantial is often done using perspective and hindsight, so until I can use either in my assessment of the Cycle of Lives project, I'll remain optimistic that all of the efforts along the way will mean something in the end. After all, why else would everybody be willing to provide so much support and encouragement?