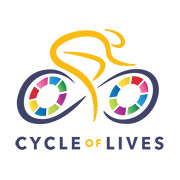 Remember Valentine's Day earlier this year? Seems like it just happened, but it was about 85 days ago, the same number of days away from me leaving for my 5,000-mile bike solo bike ride at the beginning of September. That's a scary thought! It's creeping up like a long and powerful train and there's no way to stop the momentum, nor can I jump out of the way; I've got to face this thing head on – and, not being Superman, I have to find a way to deal with it without getting smashed!
The Cycle of Lives project has been an amazing endeavor thus far. I've got over a dozen amazing people who are opening their lives, their hearts, and their minds to be examined and documented in order to help people who are going through their own traumas and tribulations. I am very excited and proud to be working with these inspiring individuals.
As for training…well…with twins graduating high school, a new job, and about five major issues on my plate that each vie for my full attention, my training is spotty. I've done a ton of 20-40 mile rides, but hopefully I'll be able to double that range soon; I need to do lots of 50-75 mile rides back-to-back in order to feel secure that my fitness will be at a high enough level. My overall fitness level is not great, but you know what they say, the best way to train for a 5,000-mile bike ride is to ride a bike 5,000 miles. I'll get back to you on that one in a few months.
Please pass the word on this project and help us raise money and awareness for those fighting cancer. You can make your tax-deductible direct donations by clicking here. Every dollar counts. I am counting on your support. Where is the money going? 100% of the proceeds are going to support people who are fighting cancer. Fortunately, each of the book subjects has designated a qualified organization to receive funds on their behalf.