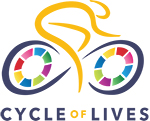 Days In – 122
Days Away – 243
Today's Topic: Time is Flying!
Seems like summer just started and now it's almost over. Holy cow. Days are filled with work, BBQs, family events, training and trying to get Cycle of Lives off the ground. The press is on and here's where we at:
-Our sponsorship package is finally completed and we are now sending this out to potential corporate sponsors. If you'd like to receive one, please email me directly at mailto:david@david-richman.com
-We are actively seeking product partners
-We have 2 new Directors: CHAD ZDENEK and ERIN HILEY
CHAD ZDENEK, DIRECTOR
Chad Zdenek is CEO of Mobile Illumination, the largest holiday lighting company in Los Angeles. He is also a TV host, currently working with Amazon.com and New York Fashion Times. He previously hosted the shows Human Wrecking Balls and It's Effin' Science.
Some of Chad's endurance athletics accomplishments include 4 full-length Ironman Triathlons, 6 half-length Ironman triathlons, 3 ultra-marathons between 50-65 miles (one of which was in 120+ degree heat), backpacking 250 miles on the entire John Muir Trail, summiting Mt. Shasta, Mr. Shukson, Mt. Whitney (6 times), and Mt. Rainier (twice).
He is past-president of the LMU Alumni Association Board of Directors and currently sits on the Board of Directors for the Entrepreneurs' Organization. The vision of this organization is to build the world's most influential community of entrepreneurs.
Chad Zdenek was born and raised in Los Angeles. He is married with two children, ages 5 and 9. He graduated from Loyola Marymount University in 1993. He began working for Boeing as a Structural Dynamics Engineer on the Space Shuttle Main Engines while getting his Masters of Science in Structural Engineering from USC. He also received his MBA from UCLA.
ERIN HILEY, DIRECTOR
Erin Hiley is an Associate Vice President and Assistant General Counsel for Molina Healthcare, a Fortune 500, multi-state health care organization, that arranges for the delivery of health care services and offers health information management solutions to nearly five million individuals and families in fifteen states.
Erin graduated from UCLA with her BA in Political Science, and then graduated from the McGeorge School of Law, University of Pacific, and is licensed in the state of California to practice law. Erin has vast experience in both employment law and complex litigation. She previously worked on several high-profile cases while an associate at Lewis Brisbois Bisgaard & Smith, based in Los Angeles, California.
Erin is involved in many diverse community and charitable projects, mentors troubled teens, and utilizes her free time to help make a difference in the lives she touches.
Erin is a member of the Go Red Executive Leadership Team for the American Heart Association.
-Our Facebook page is up and running at https://www.facebook.com/cycleoflives
-We are actively seeking subjects for the book memoir project. Please contact me if you have any compelling stories.
Well…that's about all for now. Thank you for following and keep checking in with us during your busy life and thank you for support the Cycle of Lives.
Exploring slivers of the infinite Cycle of Lives.