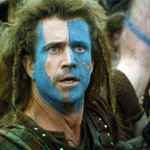 Today's Topic: Declarations
Have you ever spent a stretch of time pondering some specific thought and while doing so, stumbled upon multiple coincidences related to the precise topic you've been chewing on? I've had it happen to me many times. For example, my mind drifts to thoughts of an old friend and then somebody mentions that person's name out of the blue. Or, I think about going to a favorite restaurant that I haven't been to in forever and somebody randomly names the restaurant while telling a story. Or, I'll dream of going on a vacation and then every movie, internet ad, song, commercial and billboard seemingly references that very vacation spot. It can be maddening and wonderful at the same time; throw something out into the universe – even into the endless space between our ears – and it can collect energy; it can become real. Maybe the coincidences are actually supervening forces.
I've been thinking lately about the importance that a single word can have in defining something – even someone (more on that in a second). And as my introspective processes have been churning away at the thought of "one word", several outside references and allusions to the importance of a single word have contemporaneously appeared: people have been stressing the importance of a single word in this context or that, I've seen one word affirmation posts everywhere, I'm drawn to movies with one-worded titles, etc.
In my professional life, I am about to cross a bridge. I am going from here to there, separated by a vast unknown. What I do know is the past and future paths are connected by a single safety line, a single thought: that one word in particular has been the driving force in my professional life – and for that matter, in my personal life – more than any other. And I think now is the time that I need to seize on that word for all of its meanings to me. I need that word to power me forward and give me inspiration and guidance for my new journeys forward. That word for me is credibility. In my professional life, it is the blood that pumps to my heart and keeps me alive; I value the relationships I have built more than anything else and they have been built on being trusted to deliver on my declarations.
In my personal life – especially as it relates to attempting endurance events – declaring my desire to attempt a particular undertaking forces me to follow through and do it so that my credibility remains unbroken. As I wrote a couple of weeks ago, I'm getting close to making a declaration, that for me, would be one of monumental proportions; of undertaking a physical and emotional journey unlike any other I've ever thrown out. And as I've been contemplating throwing it out into the universe, many coincidences have strengthened my desire to make the declaration. I'm getting close. The only thing holding me back are a few difficulties that need to be worked out in my head first in order to feel that I will be able to successfully execute this mission, thus maintaining my credibility.
What one word best describes you? Grateful? Sensational? Able? Daring? Spiritual? Authentic? Unconventional?
While you're thinking about it, and perhaps even helping to make it more real by doing so, here are some one-worded movie quotes that come to mind.
"Stellaaaaaaa!" –Marlon Brando in On the Waterfront
"Freeeeedooooommm!" –Mel Gibson in Braveheart
"Supercalifragilisticexpialidocious." –Julie Andrews in Mary Poppins
"Redrum." –Danny Lloyd in The Shining