"MOVIE QUOTE THURSDAY"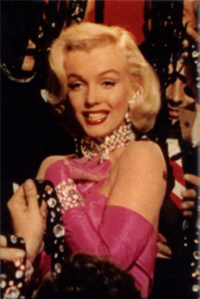 Today's Topic: Larger Than Life
If we've been connected in any substantial way, you know that the theory of "the middle of the pack" is behind a great deal of the thought, motivation and inspiration I have, and thus, it is the driving force behind most of what I do in life. This "middle of the pack" concept is my way of describing the place – or state of mind – that most of us occupy in our lives. Stated simply (although, plug, plug, you can read more in my book "Winning in the Middle of the Pack, plug, plug), I believe that most of us are stuck in patterns that have us attempting to live our lives according to what other people think – or what we imagine they think – instead of living our lives for ourselves. We do things to make others happy or because we are looking for approval or because we are unaccustomed to putting our needs at the top of the list. We often go though life trying to prove ourselves to others and we completely forget about proving things to ourselves.
There's much more to say on the subject, but I'm bringing it up because the idea that we are all occupying the "middle of the pack" is understandable when looked at in direct contrast to select few people who are world-beaters and extreme over-achievers – because they are usually not living their lives to please others. There are occasional "larger than life" characters whose accomplishments affect our lives and perhaps even deeply touch our souls. Seeing what they accomplish can instill in us a sense of wonderment and respect for the brash, fascinating, avant-garde, and often self-interested manner in which they forge their uncommon paths through life.
You might be able to identify examples in your past or present that set the standard of leading a "larger than life" existence. We can certainly look historically at past and present examples of people who provide a contrast to those of us who dwell in the middle of the pack. In business, such names as Bill Gates, Henry Ford, Richard Branson, and Walt Disney come to mind. In sports, such names as Michael Jordan and Babe Ruth come to mind. In the arts, there are iconic people such as Beethoven, Elvis Presley, Monet, Steven Spielberg, Emily Dickinson and Sidney Poitier. Historically, such names as Abraham Lincoln, Winston Churchill, Thomas Edison, and Charles Darwin are easily pointed out for their unique ability to live life according to their own prescripts and their own personal values. Although this list is nowhere near fully indicative of the extraordinary overachievers that we can look at for so many lessons to try and apply to our own lives, it can at least provide some relevance for you to contemplate how accomplishing things because it is important to you to do so, might just change your perspective enough to put you on a new path.
We can't turn ourselves into something we are not, but we can evolve; we can attempt to effect meaningful change in the way we approach life; we can strive to accomplish greatness; we can become the most that we can become.
Oh…and I won't go into the details, but besides being "larger than life overachievers", each person listed above had a fair amount of failure prior to their success, and none talked themselves out of being the best that they could be.
It's probably in you to do extraordinary things. Are you doing the most you can do?
With that, here are a few movie quotes to drive the point:
"Listen to what's calling from inside." –Jeff Bridges in The Giver
"Your will turns thought into reality." –Geoffrey Rush in Green Lantern
"Begin each day as if it were on purpose." –Will Smith in Hitch
"If a thing is worth doing, it's worth doing well." –Marilyn Monroe in Gentlemen Prefer Blondes