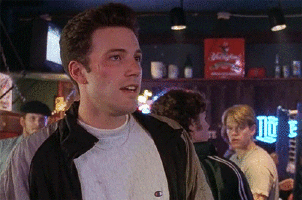 This Movie Quote Thursday will be a short one, as I'm running out of time before it's Friday! It's been a pretty amazing 72 hours for my kids and I. We are on a whirlwind trip to the east coast looking at various colleges that might interest them. In that short amount of time, we've spent time sightseeing in New York City, visited colleges in New York, New Jersey, and Delaware, made our way to Washington D.C. to see some sights and a famous university, drove to Virginia, visited another storied university, spent some time at Thomas Jefferson's famous Monticello, and drove to North Carolina and visited the oldest public university in the country. During this time, we've met with several of the country's top college women's golf coaches, driven almost 700 miles, fit in historical side trips and somehow managed to have some amazing dining experiences. Obviously, the last 3 days have taken us far away from our familiar little world.
For us, life is high school and work and friends and our personal pursuits and passions – those things are our focus. But strip all that away for a few days and replace it with what we've been fortunate to experience, and we are reminded how huge and extraordinary and enduring and significant a country we live in. It's easy to become immersed in whatever life you build around you and it's natural to become distanced from the larger picture that when viewed as such, shows us what a small piece of the big world we really are. When you realize that point, it's easy to be humbled. When you measure things with that perspective, spinning heads, dropped jaws and wide eyes are the result. And seeing those reactions on both my kids and myself over the last few days has been the best part of the trip. We are excited about the future and humbled by the past – and we are grateful for both, so much so that our eyes are very wide open right now.
With that, here are a few movie quotes that might drive the point home.
"So this is a Harvard bar? I thought there'd be equations and shi* on the wall" –Ben Affleck in Good Will Hunting
"We knew exactly who we were and exactly where we were going." –Richard Dreyfus in Stand By Me
"High school – those are your prime suffering years. They don't get better suffering than that." –Steve Carrell in Little Miss Sunshine
"Carpe diem, seize the day boys, make your lives extraordinary." –Robin Williams in Dead Poet's Society