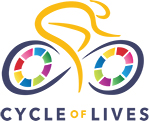 It was a busy year—isn't it always a busy year? If you're like me, you are trying to unplug and recoup before throwing yourself right back into things in a few days. With that in mind, I'll keep it brief:
The Cycle of Lives project is going well. I worked hard this year (when I could!), and with the help of my great editor, the book is really coming together; I expect to complete it in the first quarter of the year. I am searching for agents now, and have received a few indications of interest, but nothing is concrete yet. I expect that 2018 will be a big year for the Cycle of Lives book project, and I look forward to what the New Year will bring.
Lastly, we continue to accept tax-deductible donations via PayPal and with direct contributions. Please visit our website (here) to learn more. The Cycle of Lives 501(c)3 supports various organizations chosen by the book participants, such as cancer centers, support groups, and advocacy organizations.
Thank you and all the best to you and your loved ones!
David Richman