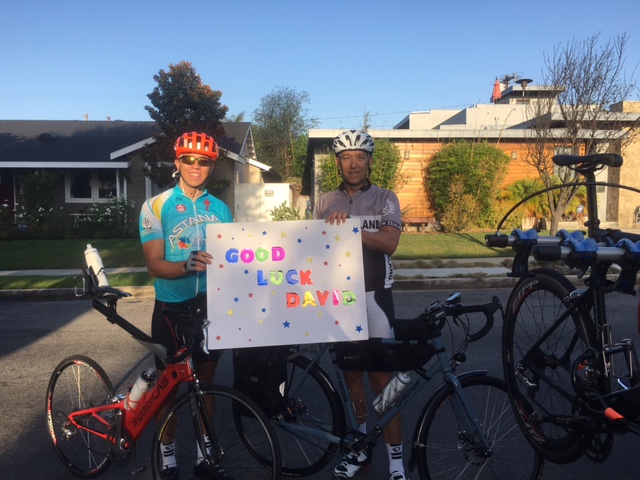 It's been a year since I embarked on a 5,000-mile cross-country bike ride. It's funny how part of me feels like Labor Day weekend of 2016 was forever ago, and part of me feels like I'm still recouperating. There are so many great stories to tell from the ride, and the most interesting ones will be in the upcoming book. Most of those stories revolve around the wonderful people I met along the way—both the book subjects and the many other people who I met along the way.
In Cancer: The Queen of Emotional Chaos: Fifteen Remarkable Stories, One 5,000-Mile Bike Ride, I attempt to tell the incredible stories of the book participant's emotional journeys with cancer. Right now, the first 80-pages are being reviewed for representation. The editing process has been intense, but the vision and purpose of the book comes through clearly. I look forward to bringing the entire project to its completed stage.
I appreciate all the continued comments and support, and hope you will continue to follow my progress.
In the meantime, here's a taste of the introduction:
It's All About the Bike
A softball-sized area, tucked deep into the middle of my lower right back, churned out a sharp and radiating pain. My upper body was immune to any relief my awkward stretches searched for. My ass was chafed and near bleeding from saddle sores that crept up overnight, announcing their arrival like the blaring horns of pre-battle, only this battle was one fought mostly while seated. I couldn't find the tiniest amount of comfort on any spot of my top-of-the-line Brook's bike seat. I looked down at the nose of the seat made by those British masters of crafting leather who'd been fitting cyclists the world over for almost 150 years, and I cursed them for the frauds they were. My legs were heavy and burning. My stomach had shut down, as though clogged by hard cement, and the thought of trying to down a little water to aid in abating the dehydration made me swim with nausea. I was sunburnt. My eyelids cried for relief. The outside of both little toes were squeezed so hard against my new Shimano shoes (damn frauds, too) that I entertained the idea of cutting a hole on the sides to find some simple and glorious relief. Here I was, nearly 600 miles into a 5,000-mile cross-country bike ride, which I was doing for all kinds of good and altruistic reasons related to cancer and my sister, but I could have cared less about any of it. I found a side road adjacent to the highway and hobbled off the bike, thinking I would sleep for a few minutes. Sleep would make all those pains disappear. As the deep heat of the September Arizona asphalt sizzled the sweat on the back of my legs and arms, I asked myself, "What the hell are you doing this for?"
There were many answers, some of which included honoring and remembering June. But truthfully, the more meaningful and painful reasons wouldn't appear until deep into the struggle of pedaling hard day after day in 100-plus degree heat, along endless stretches of highway, with nothing much to do beyond cranking the gears—the fourteen literal ones housed inside the German-engineered Rohloff Internal Hub on my rear wheel—and the uncountable ones housed inside the Richman-engineered mind. Deep and prolonged pain has a way of clarifying the murky things tucked away in the corners of the mind—self-inflicted pain doubly so.
Why Bike 5,000 Miles?
Why in the world bike 5,000 miles? Sure, I was a bit crazy, but that was not why. Sure, I wanted to do something meaningful and in support of a cause I believed in, but that was not why either. A big part of "why" was about this book and the book participants, but it was about so much more. The real answers—the true and personal and real meaning behind the whole project—started to become clear to me on that brutal day outside of Payson, Arizona, as I lay just off the side of the highway, struggling to find the strength and the will to get back up after a twenty-minute nap and climb gingerly back onto my bike and begin riding again. The real answers always came back to my sister.
June died a couple of months after her 46th birthday. She left behind a husband and two kids who loved her as much as she could have wished, a family of in-laws who took her into their inner circle and called her their own, a group of friends and co-workers who admired and relied on her, and a couple of lost and lonely family members, one of whom was proud to call her his sister. The type of cancer that took her is irrelevant. She's gone. What matters is that she died too young; she didn't live to see her dreams come true; she didn't get to see her kids grow up; she didn't get to grow old with her husband; and she wasn't given the chance to endure the heartbreaks and feel the blessings that a lady who grows old earns the right to endure and to feel.
The 5,000-mile cross country bike ride—which I came to call Cycle of Lives—was the latest adventure I undertook in her honor, and the deepest by far, not just because it was a very long ride, but because it brought me to a point where I could answer all the questions I had, and feel all the emotions I felt about losing her. It brought me to that point, because this time, I rode in search of those answers and those emotions. I specifically sought them out. I planned my route to talk to the book subjects who were touched by cancer—doctors, mothers, patients, caregivers, survivors, sons, daughters, and brothers like me. And throughout this journey, together we have thought about the unthinkable, discussed the undiscussable, and discovered some answers to the previously unanswerable questions that hung in our minds as we each went through our own traumas.