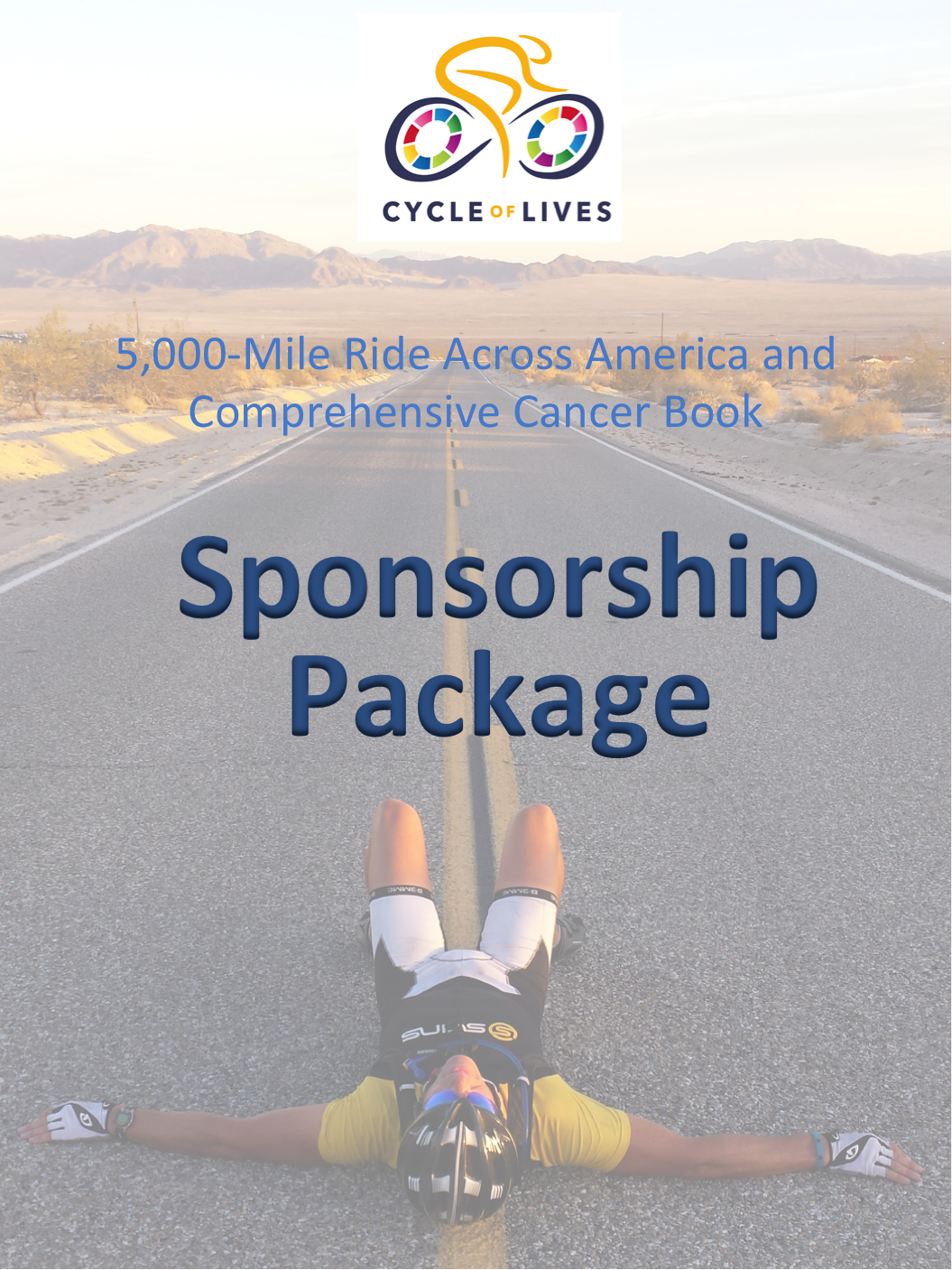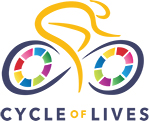 Dear Potential Product Partner,
Twelve years ago, my sister June began her battle with brain cancer. While she ultimately lost her fight, the medical care and loving support she received from various institutions was extraordinary. In her honor and to their benefit, I have since raised more than $100,000 for cancer-related organizations through planning or participating in multiple endurance athletics fundraising events.
This year, I launched my foundation, Cycle of Lives, in advance of the most extensive, intense, and personal event I've ever done. This September, I will solo bike across America. Nine weeks, 5000 miles. Along the way, I will be interviewing several vital, inspirational people whose cancer journey I will chronicle in a new book while also participating in site visits of local cancer research, care, and support facilities.
I don't have a massive staff, or a lot of overhead. I have excessive determination and a very strong intention. I want to raise as much money as possible for cancer-related efforts that might not ordinarily see easy funding: for the researcher who has to finance his own work, for the hospice facility with minimum wage (but maximum kindness) employees, for the resource center that provides connection between patients and care options.
I'm looking for both sponsors and product partners. I am hoping that your company will provide either products and/or a direct donation to our non-profit corporation. Your financial or in-kind support is integral to reaching our goal and honoring the people still trying to assure we can put an end to cancer rides by putting an end to cancer. If you determine to support us by becoming a product partner and/or financial sponsor, we think you'll find many opportunities for brand visibility, both national and local. Your consideration is very much appreciated, and your partnership will be well recognized.
Respectfully,
David Richman
213-364-4041 : david@david-richman.com
EVENT SUMMARY
• A 5,000-mile, 9-week bike trek across America
• Ride kicks off on September 2nd, 2016, in Los Angeles, CA, and finishes in New York, New York, on approximately October 20th, 2016
• Each stop will include face-to-face visits with book participants as well as local charitable events and schools, hospital, and research lab drop-ins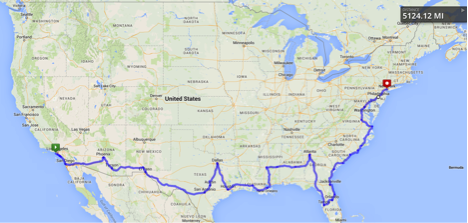 • Local media opportunities during stops in vibrant DMAs:
Los Angeles (2) Atlanta (9)
San Diego (28) Tampa (13)
Phoenix (11) Orlando (18)
Tucson (71) Jacksonville (48)
Las Cruces/El Paso (91) Savannah (92)
San Antonio (33) Charleston (95)
Austin (39) Wilmington (131)
Dallas (5) Norfolk (42)
Houston (10) Richmond (57)
Lafayette (124) Washington DC (8)
New Orleans (51) Baltimore (26)
Jackson (94) Philadelphia (4)
Montgomery (121) New York (1)
SPONSORSHIP LEVELS
EXCLUSIVE TITLE SPONSOR (1): $25,000
Banners at start, stops, finish
TV/photo media visibility
In all PR and advertising
Prominent logo on bike jersey and on crew shirts
Logo on Cycle of Lives letterhead and collateral
Website feature
One-time access to mailing list
START/FINISH LINE SPONSORS (3 max.): $7,500
Banners at start, stops, finish
TV/photo media visibility
In all PR and advertising
Logo on Cycle of Lives letterhead and collateral
Website feature
LOCAL STOP SPONSORS (20 max.): $2,500
Banners at stops
TV/photo media visibility
In all local PR and advertising
Logo link on website sponsor page
JERSEY SPONSORS (5 max.): $500 – $4,000
On David Richman and any riding partners
TV/photo visibility
In all PR and advertising
Logo link on website sponsor page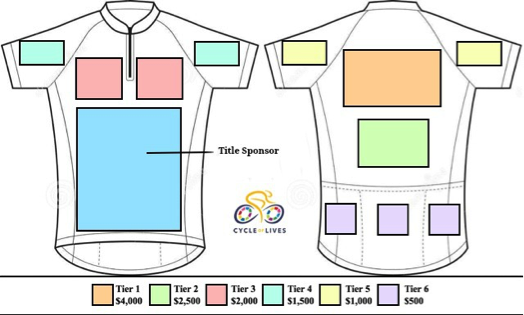 FOLLOW VEHICLE SPONSORS (8 max.): $1500 – $5000
Logo on both sides
In all PR and advertising
Logo link on website sponsor page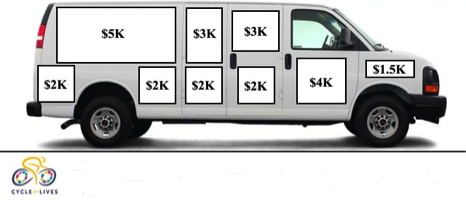 WATER BOTTLE SPONSORS (3 max.): $1,000
Visibility during ride as well as giveaways at stops
Logo link on website sponsor page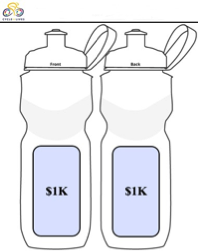 ROUTE MAP SPONSORS (10 max.): $500
Logo link on website sponsor page
WEB-ONLY SPONSORS (20 max.): $250
Logo link on website sponsor page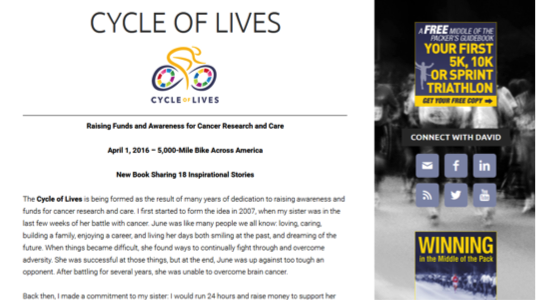 THE TEAM
DAVID RICHMAN, FOUNDER
An entrepreneur, author, athlete, and philanthropist, David Richman uses the lessons learned in his life to enrich and inspire others. As a former sedentary, over-weight smoker, David knew that he needed to focus not on what others wanted out of him, but on what he wanted out of life. With his first book, "Winning in the Middle of the Pack," David introduced the concept of the "middle of the pack" and discussed how to get more out of ourselves than ever imagined.
In 2015, David launched Middleview Consulting, a firm that leverages its expertise in helping financial advisors break away from banks and wirehouses, grow their businesses, and acquire other practices. Prior to Middleview Consulting, he worked in a variety of industries and launched two start-ups. He entered the financial industry as an advisor at a major Wall Street firm, and during a 17-year career there, he managed ever-larger businesses for the firm. Wanting to return to his entrepreneurial roots, he partnered on launching an independent/hybrid financial advisory firm with other leading industry veterans. In under two years, the firm annualized over $10MM in revenues on over $1B in assets under management in several locations.
Over the last 10 years, David has completed more than 50 triathlons, including 13 of Ironman-distance (2.4-mile swim, 112 mile bike, 26.2 mile run). He has finished more than 50 runs longer than marathon distance, including several 24-hour runs and running 85 miles in Mexico in the heat of the summer. He ran four consecutive marathons (104 miles) from Santa Barbara to Manhattan Beach. After losing his sister to brain cancer eight years ago, David has organized a yearly fundraiser for various charitable organizations, the most recent being a 280-mile bike ride to Vegas.
David was born in Miami and has since been a Southern California resident. He has teen twins who are as aspirational as their father. His latest business book, "Breaking Free: A Wirehouse Advisor's Guide to Going Independent" has just been released, and he is designing a book around the people and organizations involved in Cycle of Lives to be released in 2016.
CHAD ZDENEK, DIRECTOR
Chad Zdenek is CEO of Mobile Illumination, the largest holiday lighting company in Los Angeles. He is also a TV host, currently working with Amazon.com and New York Fashion Times. He previously hosted the shows Human Wrecking Balls and It's Effin' Science.
Some of Chad's endurance athletics accomplishments include 4 full-length Ironman Triathlons, 6 half-length Ironman triathlons, 3 ultra-marathons between 50-65 miles (one of which was in 120+ degree heat), backpacking 250 miles on the entire John Muir Trail, summiting Mt. Shasta, Mr. Shukson, Mt. Whitney (6 times), and Mt. Rainier (twice).
He is past-president of the LMU Alumni Association Board of Directors and currently sits on the Board of Directors for the Entrepreneurs' Organization. The vision of this organization is to build the world's most influential community of entrepreneurs.
Chad Zdenek was born and raised in Los Angeles. He is married with two children, ages 5 and 9. He graduated from Loyola Marymount University in 1993. He began working for Boeing as a Structural Dynamics Engineer on the Space Shuttle Main Engines while getting his Masters of Science in Structural Engineering from USC. He also received his MBA from UCLA.
ERIN HILEY, DIRECTOR
Erin Hiley is an Associate Vice President and Assistant General Counsel for Molina Healthcare, a Fortune 500, multi-state health care organization, that arranges for the delivery of health care services and offers health information management solutions to nearly five million individuals and families in fifteen states.
Erin graduated from UCLA with her BA in Political Science, and then graduated from the McGeorge School of Law, University of Pacific, and is licensed in the state of California to practice law. Erin has vast experience in both employment law and complex litigation. She previously worked on several high-profile cases while an associate at Lewis Brisbois Bisgaard & Smith, based in Los Angeles, California.
Erin is involved in many diverse community and charitable projects, mentors troubled teens, and utilizes her free time to help make a difference in the lives she touches.
Erin is a member of the Go Red Executive Leadership Team for the American Heart Association.