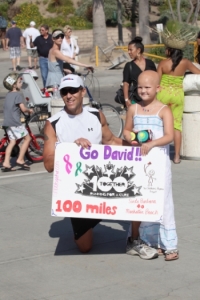 PLEASE SUPPORT

American Cancer Society

 

Their "Relay For Life" events are transformative. Check with the local chapter and start a team.
Doctors Without Borders

 

Provides medical care to tens of millions around the world that are caught in crisis.
Jonsson Comprehensive Cancer Center

 

Internationally renowned. Full of caring people. Groundbreaking research, diagnosis, treatment and care.

2014 was David's 7th year of doing fundraisers for the Jonsson Comprehensive Cancer Center. Each summer, David does an endurance event/fundraiser "For June in June" in honor of his sister June. She was treated and cared for by the great people at the JCCC, and to support their research and care programs, David attempts to raise awareness and donations that directly support the vital work they do. In addition to direct donations, a portion of each book sold will be donated to the JCCF.

On June 25th, he took off from Manhattan Beach, CA and rode his bike to Las Vegas, Nevada, via Joshua Tree National Park. He completed this 350-mile journey–climbing over 12,000 ft. of elevation, enduring temperatures in the 115 degree range–in less than 48 hours. The opportunity to combine a challenging adventure, the launching of my new book, and a fundraiser that supports such a great organization, is a true gift.